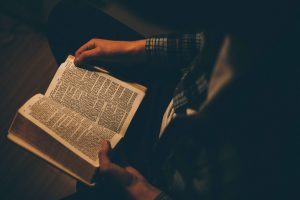 The Bible is God's Word, spoken through human writers.
God is three Persons in one: the Father, who created and sustains the world; the  Son, who lived as a man, died, and rose from the dead; and the Holy Spirit who works God's will in the world.  Sin is revolt against God in thought, word and deed. Every person is guilty of sin against God. Sin also is the cause of the bad things people do to each other.  Everyone will have existence after death–either in heaven or hell–forever.  God has a plan to end the world, when He will judge everyone–both the living and the resurrected dead.
We build our lives on Jesus Christ. We believe Jesus Christ is the only, perfect, son of God.  We believe that Jesus lived a life of perfect obedience to God's Law, died for us and for every person in the world. And We believe that Jesus rose from the dead and lives for us–and for all people who believe in Him as their Savior.
We view Baptism and the Lord's Supper as the means by which God gives people His grace. We teach that people–no matter how hard they try–cannot earn God's forgiveness or a place in heaven. It is a gift from God that people receive through faith in Jesus Christ.
We believe that through the scriptures, God reveals His  great love for us.    Because of His love, we have forgiveness and life now and through eternity.
+++++++
Emmanuel Ev. Lutheran Church was established in 1851 in the town of Petersburg, Ontario and are children of God who are:
Aiming our lives toward Christ,
      Proclaiming Christ crucified,
            Reclaiming lost lives for Christ.
We are by no means perfect people. We believe that by our very nature we are sinful human beings who live contrary to the Word and will of God. We sin by what we think, what we say, and what we do. But we also believe that God has done something about our condition of sin through his son, Jesus Christ. Jesus came into our world to give his life as a sacrifice on the cross to make payment for our sin, reconcile us to the God who has created us, and bless us with an everlasting relationship with himself. As a bumper sticker years ago used to say, "Christians aren't perfect, just forgiven."
Living under that forgiveness, and with God's help, we are aiming our lives toward Christ. We are walking the journey of faith that we might better know and understand our loving Father and become more like him. Sharing a common faith in a common Savior, we walk the journey of faith together as a congregation so that we might be encouraged by our fellow brothers and sisters in Christ and, in return, be an encouragement to them. When we stumble, and we surely do every day, we are there to help one another back up on their feet.
We find ourselves firmly proclaiming Christ crucified. We do not trust in our own good deeds or life for God to save us. We believe that only by Christ's death on the cross is our sin paid for and the free gift of eternal life given to us. Rejoicing in our relationship with God, we are about the task of reclaiming lost lives for Christ. We want the whole world to share in the joy and gladness of knowing God personally and living in the sure and certain hope of everlasting life with him.